La Basiglia B&B Accomodation
    SINCE 2018    
A story, two voices.

A place, two passions.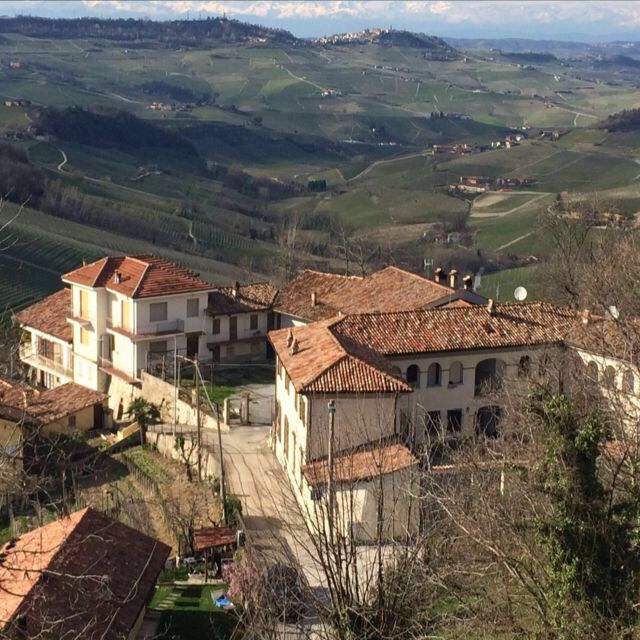 Interesting things happen in the historical centre of the village of Monforte d'Alba, in the neighbourhood everybody calls "La Basiglia", where we actually live - old memories and young dreams interwine and two new stories were born. The remodelling works of grandparents Angelo and Amelia's old house began in autumn 2016. The four rooms of the house were turned into a saxophone repair shop. The old barn was renovated for accommodation purposes with, including two B&B rooms and a studio flat. In the back, a fresh garden looks onto the vineyards, UNESCO world heritage site, the land of Barolo wine and truffles. Here we are, let us take you through a journey around pictoresque Langa, accompanied by jazz notes.
Irene

A bit of an acctress, a bit of a translator, a full-time cultural event organizer.
Daniele

Vintage saxophone repairer, musician and gardener.
Large and comfortable rooms, resulting from the barn of an old country house, furnished with antique family furniture and a touch of modern design.
Exposed wooden ceiling beams, balconies with a panoramic view
The following is included in every room: hairdryer, satellite TV, wi-fi connection, little bed/crib and high chair for infants on request, public parking space at a 100 m distance or private paying car park
Jazz is the type of music that can absorb so many things and still be jazz
A loft apartament, with a king size bad or single beds and a queen size sofa bed.
Fully equipped kitchen, old refurbished furniture and family souvenirs.
Balcony with a panoramic view.
Private bathroom with a shower.
In 1959, Sonny Rollins would spend his nights playing his saxophone on the Williamsburg Bridge, a suspended bridge, close to the Lower East Side - a Manhattan neighbourhood. The best place where to try new things out, off the spotlights and the stage. A place to get connected to the sorrounding world and its sounds: the seagulls, the train, the running water underneath.
Fees
One night for two people: 100€
Extra bed: 30€
Offers for long-time stays
Tourist tax: 1.50€ per day/person
It's always night, or we wouldn't need light.
A double room, with a canopy bed and a small vintage couch.
Small balcony onto the garden, blue shaded walls, blinds looking like a wordrobe doors and an old and newly restored plate rack.
Private bathroom with a shower.
Pannonica is the name of a moth. It is also a baroness's name, Pannonica de Koenigswarter, whose nickname was Nica. A British patron and jazz fan who helped and supported the most famous musicians of her time, especially between the 1940's and 1950's. One name worth being remembered: pianist Thelonius Monk
Fees
Night stay and breakfast
One night for two people: 100€
Double room for single use: 80€
Extra bed: 30€
Long-time stay fees to be arranged
Tourist tax: 1.50€ per day/person
In other words I am three. One man stands forever in the middle, unconcerned, unmoved. The second man is like a frightened animal that attacks for fear of being attacked. Then there's an over-loving gentle person
A large room with a king size bed and a sofa bed.
Private bathroom with a shower.
Small balcony with a view on the Langa.
Bright colours, modern design furniture, spider web lights.
Unpredictable, crazy, furious and brilliant. Charles Mingus: an American double bassist and composer. He died on January 5, 1979 at 56 years of age. It is said that 56 whales (balene in Italian) died on that very day, stranding on a California beach. Exactly 56 whales, right on that day.
Fees
Night stay and breakfast
One night for two people: 100€
Double room for single use: 80€
Extra bed: 30€
Long-time stay fees to be arranged
Tourist tax: 1.50€ per day/person
Please phone or email us, or fill the following form, for any further information you may have.
HAVE YOUR ART EXHIBITED AT LA BASIGLIA
The walls of our rooms are ready to host any form of art you may be creating: photos, paintings, artworks or any attempt to make them. Contact us!
Right now, the current exhibition regards...B.'s photos!
Barbara Sibona
tel. +39.328 82.59.375
e-mail: gingerbread@email.it
barbara_sibona (instagram)